Paul McCartney's newest collaboration isn't what you think.
To promote his 2018 album Egypt Station, McCartney's team reached out earlier this year not to his record label — but to sweater label Lingua Franca to create a collection of limited-edition cashmere sweaters embroidered with titles of two of the album's tracks: "People Want Peace" and "Do It Now."
"Is this for real?" Lingua Franca's founder and longtime Beatles fan Rachelle Hruska MacPherson recalls thinking when she received the email from the Beatle's reps.
Indeed it was: two hundred emails later, the premium jumpers, as the British call sweaters, are now available for $400 apiece at McCartney's official merchandise shop.
Artists have been selling limited-edition merch for years, but McCartney is one of many acts working to elevate their offerings even further beyond the standard concert t-shirt and enlisting new partners to help. Kanye West spurred many of these efforts with his wildly successful pop-up shops across the country in 2016, the year of his Life of Pablo Tour. For the release of Lover, Taylor Swift and Stella McCartney launched a sustainable line of bomber jackets, hats, and graphic tees. Gucci ambassador Harry Styles joined the roster when he unveiled a t-shirt under the direction of creative director Alessandro Michele.
Lingua Franca sweaters — stitched with punchy, culturally relevant slogans — caught the attention of some celebrities amid the rise of the Time's Up movement, with phrases like "Fight Like A Mother" and "Nevertheless, She Voted." P!nk posted a picture of herself wearing one that said "Dear Mama" and Kristen Bell posted herself wearing the slogan "When There Are Nine," while Tim McGraw was spotted in one embroidered: "Educate girls, change the world."
Below, Lingua Franca's MacPherson speaks with Billboard through the process of designing pieces with McCartney and why the collaboration was "kismet in the best way."
How did the Lingua Franca x Paul McCartney sweater collaboration come to be?
They came to us. I would never–out of nowhere–just email Paul McCartney. Every single collab we've done has been people coming to us. His team reached out to our info account–if you can believe that.
Courtesy Photo
Paul McCartney x Lingua Franca
Why do you think this collaboration makes sense?
Lingua Franca, to me, is the idea of a common language that we all share. When we started out, we were embroidering hip-hop lyrics because I always felt that that hip-hop was this sort of lingua franca of our time. Like, everyone on the Upper East Side knows the same Drake lyrics as a kid in Montana.
Then, when Trump became president and all these things started happening, I felt like we needed now more than ever to be reminded of this common ground we share. I feel that Paul and his music epitomizes the concept of lingua franca. I grew up listening to his and The Beatles' music. Now, my kids are listening to his music. I mean, when does that happen? His music transcends generations. We're trying to build around this concept of connecting people. Also, I think our sustainability and our handmade quality really spoke to him.
How involved was Paul McCartney in the process of making of the sweaters?
He was really involved in the process, which was so beyond cool. Paul's team asked if it would be possible to get a selection of designs mocked up. They had some potential slogans from Paul's recent album. We showed them fifteen mockups, and Paul picked six. We really trusted Paul's judgement on color combinations. The fact that Paul was picking all the colors was exciting.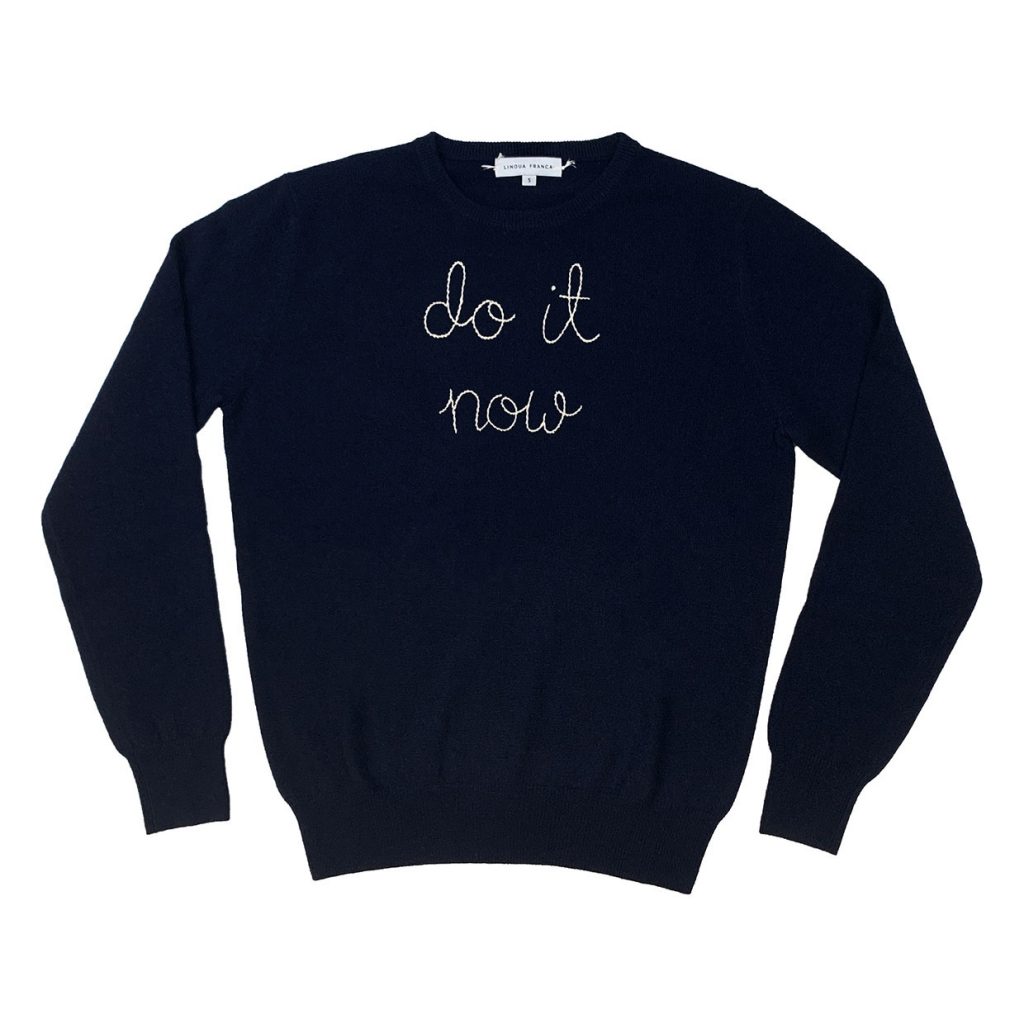 Courtesy Photo
Paul McCartney x Lingua Franca
Inspired by McCartney's father and the advice he used to give, one sweater reads: "Do it now." What comes to mind when you hear that slogan?
The whole business started because I had postpartum anxiety: I obsessed over the fact that we're all going to die someday. The message is, don't wait on anything that your heart's telling you.
Who else is on your wishlist for future collaborations?
Without hesitation, it would be Beyoncé. But I feel like everything we do has to be organic. We don't reach out to celebrities. Besides Beyoncé, Michelle Obama would be incredible to work with. Those two would be at the top of my wish list.