Miley Cyrus graced the cover of Rolling Stone on Friday (Dec. 4) to dish about her new album Plastic Hearts, evolution as an artist, and more.
While it's steeped in the sound of '80s rock and features collaborations with the likes of Joan Jett, Billy Idol and Stevie Nicks, the singer revealed she didn't necessarily plan to make a rock album at the outset of its creation.
"I could say I f–king planned it and I'm a strategic f–king genius, but I wish I was this strategic," she admitted to the magazine. "I don't ever know what kind of record I'm trying to make when I start making it. And then because of how my lifestyle [is] and where I am in my life, it always fits and works because it's just honest. I f–king grew up listening to country music; we're storytellers. Every record is storytelling."
And considering that each album in her discography tells a story through very a different sonic palette — from the brash pop of 2013's Bangerz to the psychedelic trip of 2015's Miley Cyrus & Her Dead Petz to the country-folk of 2017's Younger Now — the singer reminisced on the internal struggle of always trying to prove and re-prove herself with each new project throughout her career.
"I discredited myself for what I had been almost every step of the way, she said. "During Dead Petz, discrediting Bangerz. During Bangerz, discrediting Hannah Montana. During 'Malibu,' discrediting Bangerz. It's almost like when I have evolved, I've then become shameful of who I was before. What makes you an adult, I think, is being OK with who you've been before."
During the interview, Cyrus also looked back on her earliest hits from the Hannah Montana days, revealing she was "always writing" new music during the height of her Disney Channel fame.
"I wrote the Meet Miley Cyrus record with my collaborator from '7 Things,'" she said. "That is as honest as anything I write today, '7 Things.' I came in, and I think I said, 'These are the seven things I hate the most about this dude that broke my heart.' And he was like, 'Well, let's just write '7 Things' then.' 'Fly on the Wall' was really about the media at that time. They were already starting to label me as 'America's Sweetheart Gone Wrong.' I was thinking, 'If you could only be a fly on the wall. It's worse than you can imagine.' Or better, I guess."
Cyrus then spoke about her impact on other queer artists — and how Hannah Montana was instrumental in that process.
"I had to evolve because Hannah was larger than life, larger than me," she said. "I felt like I was never going to amount to the success of Hannah Montana. That's how Lil Nas X actually knew of my dad. He grew up watching Hannah Montana and said, 'I want to do a song with Robby Ray,'" she said, referring to dad Billy Ray Cyrus' character on the sitcom.
"That's literally what happened. Being a young queer kid's idol that could turn out to be a Lil Nas X and create a whole identity for themselves off being inspired from watching me growing up," Cyrus continued. "Or I hear artists like Troye Sivan say he felt more comfortable with his sexuality when I came out with 'My Heart Beats for Love.' When my peers are having these experiences and accepting themselves because of something that I demonstrated while they were a kid, that's when I go, 'S–t, I f–king am Hannah Montana.'
"Really, Hannah Montana was not a character…The concept of the show, it's me. I've had to really come to terms with that and not be third-person about it," she said.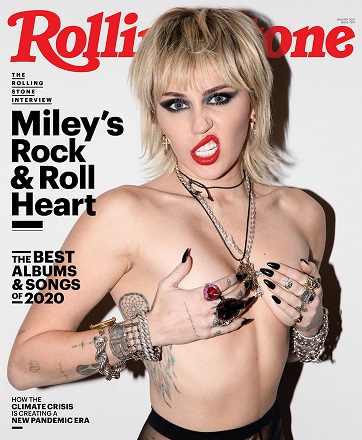 Check out the singer's NSFW Rolling Stone cover below.