Lizzo counted herself as one of the many lucky people to be invited to Cardi B's 29th birthday bash on Sunday (Oct. 11), and as such, showed up to the star-studded event in a sheer outfit worthy of dancing the night away.
Ahead of the event, Cardi tweeted out the outfit requirements for her big birthday bash. "Yes, it's true! The dress code is dancehall! Bring out ya best Caribbean and Dancehall looks!" the rapper wrote, later enforcing the rule on Instagram with a dancehall fashion inspiration post captioned, "See y'all Dancehall Queens tomorrow. old school dancehall & new school just come ready to skin out !!!!!"
The "Rumors" singer did exactly that — she was styled by Aliétte designer Jason Rembert for the evening and showed up to Cardi's party in a sparkling lavender sheer mesh dress with silver Jimmy Choo heels that later disappeared as the night wore on. Lizzo completed her eye-catching look with soft pink nails, a side ponytail, and butterfly clasps to accessorize. Fans of the look drew comparisons to the now-iconic sheer Swarovski crystal dress that Rihanna wore to the CDFA Fashion Awards in 2014.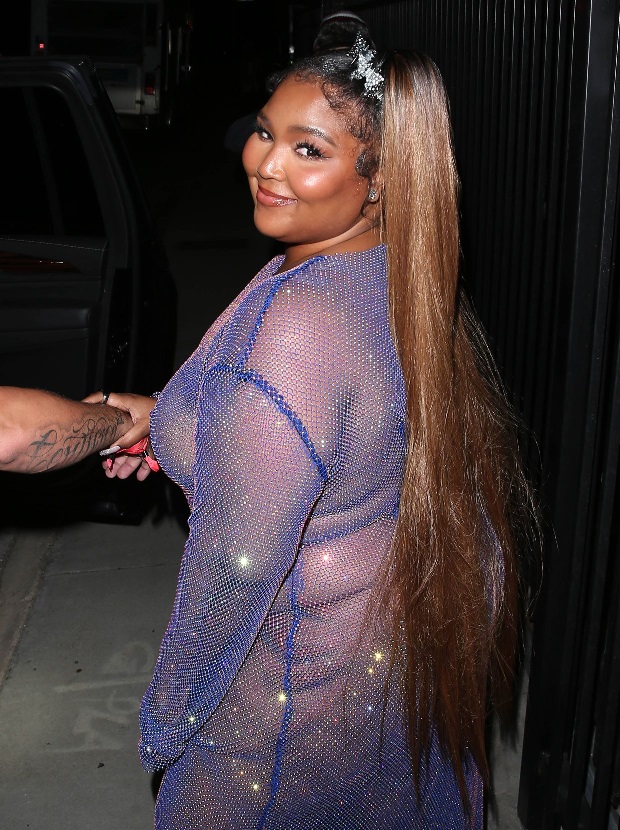 MEGA/GC Images
Lizzo is seen on Oct. 12, 2021 in Los Angeles.
The 33-year-old had fun with the look and posted multiple images of herself in the ensemble to her Instagram and Twitter pages. The invite to Cardi's party comes as no surprise, as the friends and collaborators recently worked on music together. Lizzo featured Cardi on her newest single, "Rumors" — the song hit the No. 1 and No. 4 spots on the Hot R&B/Hip-Hop Songs and Billboard Hot 100 charts respectively.
See Lizzo's dazzling look below.
Glitterous pic.twitter.com/eBbdMSlWZX
— ALL THE RUMORS ARE TRUE (@lizzo) October 12, 2021
View this post on Instagram
View this post on Instagram