Ahead of the premiere of her forthcoming House Of Gucci film — which is out everywhere on Nov. 26 — Lady Gaga sat down with British Vogue for an interview, published on Tuesday (Nov. 2), to discuss playing Patrizia Reggiani in the movie, an experience that saw her fully immersing herself in the character for the duration of filming.
Gaga revealed that the impressive Italian accent she assumed to play Patrizia would not activate when she was in her regular blonde hair. "I instantly had to dye my hair, and I started to live in a way whereby anything that I looked at, anything that I touched, I started to take notice of where and when I could see money. I started to take photographs as well," she explained. "I have no evidence that Patrizia was a photographer, but I thought as an exercise, and finding her interests in life, that I would become a photographer, so I took my point-and-shoot camera everywhere that I went. I noticed that Patrizia loved beautiful things. If something wasn't beautiful, I deleted it."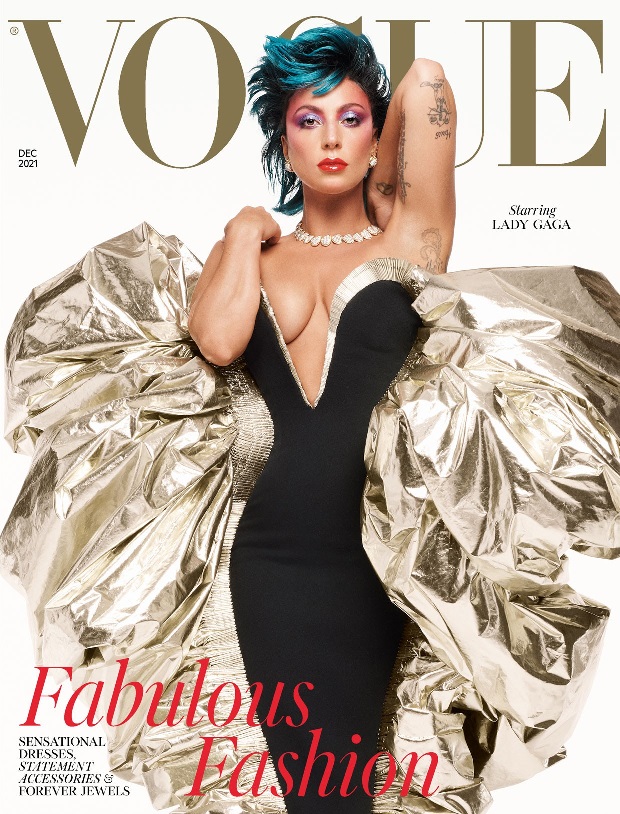 Steven Meisel for British Vogue See the full feature in the December issue of British Vogue available via digital download and on newsstands from Friday 5th November.
Though Gaga went all in with method acting while playing Patrizia, she also revealed that she never took the next step — meeting Patrizia Reggiani in person to get a better idea of what she is like in real life, minus the tabloid fodder. "I only felt that I could truly do this story justice if I approached it with the eye of a curious woman who was interested in possessing a journalistic spirit so that I could read between the lines of what was happening in the film's scenes," she said, adding that "nobody was going to tell me who Patrizia Gucci was. Not even Patrizia Gucci."
Playing the role for such a long time — which Gaga says consisted of a year and a half — got in the singer-turned actress' head. "I had some psychological difficulty at one point towards the end of filming," Gaga continued. "I was either in my hotel room, living and speaking as Reggiani, or I was on set, living and speaking as her. I remember I went out into Italy one day with a hat on to take a walk. I hadn't taken a walk in about two months and I panicked…I thought I was on a movie set."
Gaga also took a brief moment of her interview to reveal that recording Chromatica was an incredibly difficult experience for her. The album spent 41 weeks on the Billboard 200 chart and peaked at No. 1 shortly after its release.
"I don't think I've ever been in more pain in my life than I was making that record. It's very hard for me to listen to. It's very hard for me to sing those songs, but it's not because they're not amazing, wonderful songs. It's because they came from a very, very black hole in my heart," Gaga said. "I didn't want to be me anymore…I didn't have the ability to understand what I was capable of any longer as a person. I didn't feel that I was worth just about anything. But I made it anyway."
Watch Gaga portray Patrizia in the most recent House of Gucci trailer below.