The Billboard Music Awards broadcast on Sunday night, for which there was an in-person, masked audience gathered outside at L.A. Live, was packed with high-energy and celebratory performances. But one in particular left viewers tilting their heads wondering, "How?"
The Weeknd's off-site performances throughout the past year and change have, in fact, become something of a spectacle. He performed atop the Edge — the highest sky deck in the Western Hemisphere — for his 2020 MTV VMAs set, and sauntered through a frenzy of fireworks for his 2020 American Music Awards gig. But his BBMAs performance was perhaps his riskiest yet, as he performed amidst a fleet of vintage cars and semi-trucks whizzing by.
Artist Mentioned
The Weeknd
Director Alex Lill and writer Charlie Morse recall coming up with the idea for "car choreography," says Morse, before anything else. Morse soon after storyboarded their ideas (seen below) to show the larger team their vision. "From those drawings came a lot of realizations about all the different shapes you could do with cars, and I was doing a lot of them from the top down just to showcase the arrangements, and that's when we realized that a lot of these play well from an aerial shot, which you see in the final big pullout" that they filmed using a drone.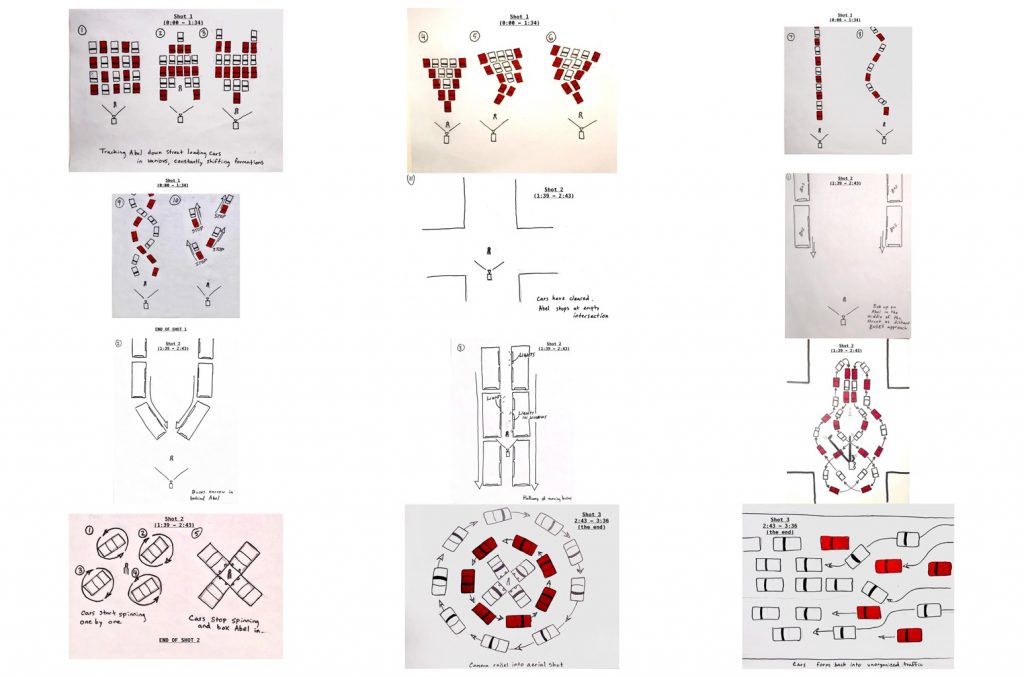 "One of the things we were always inspired by was those old 1950s synchronized swimmers," says Lill. "So it was kind of recontextualizing that. We weren't trying to do a Fast & Furious type thing, it was very much about synchronicity and elegance, and it was really interesting working with all the stunt drivers who were not used to that." Lill and Morse worked closely with stunt coordinator Charles Grisham (Jackass, Twighlight, The Dark Knight Rises), who sourced a 21-person stunt team that rehearsed for two eight-hour days before The Weeknd's performance.
But before rehearsals could even start, producer Brendan Garrett had an important — and difficult — task ahead: find 20 identical cars in red and white. "He went to every major-picture car place and everyone was like, 'Good luck, that's never going to happen,'" says Lill. "So [he] had to go source every car individually online that was for sale and find 20 of them in 4-5 days. And of course they're vintage cars that were used, so they're breaking down like flies." As a result, there was a Nascar mechanic team on site, which also had to make sure each car had the same breaks so the stunts would be coordinated without any margin of error.
And while every driver had a walkie-talkie on hand to communicate while rehearsing and filming, as Lill says, "everyone had to very much have it like the back of their hand in terms of formations, how many seconds, how much distance they have to travel… because, you know, it's a big parking lot, but we were also hitting the fence a lot of the time almost. That was definitely the most stressful part, being able to just nail a thing within a minute-and-a-half perfectly."
He says after each rehearsal the cars started to go faster and faster, and by the day before they filmed, Lill even asked about moving the cars and trucks — which were then going 25 miles-per-hour — closer to The Weekend. "I had a conversation with him afterwards like, 'Could we make this a little more dangerous, so it will look cooler?'' The Weeknd didn't hesitate. (Originally he was going to open the show walking in front of the cars, but Morse recalls thinking, "this doesn't feel exhilarating enough" once they got on the lot and decided to place him in one of the vehicles instead).
Lill and Morse have been working with The Weeknd for over a year now, and while many of their collaborations have been pre-recorded given the pandemic, they also point out despite performing next to everything from fireworks to car engines, he's always delivered live vocals. "That's a testament to him," says Morse.
Another reason the pair loves working with the superstar? "He'll bring people [in] who he trusts," says Lill, "and once he trusts you, he'll let us go crazy with it."
"There was a lot of trust with those cars going by," adds Morse. "He didn't seem nervous at all, which really weirded us out, because these cars were just barreling by him and he was calm, kept his composure, walked slow and just didn't look back. It was kind of amazing."