When YouTube asked sisters Chloe and Halle Bailey to perform for its Dear Class of 2020 virtual commencement celebration, the two weren't sure how they'd pull it off. Precision is central to the duo's artistic brand — in its otherworldly close harmonies, ahead-of-the-curve fashion and transcendent videos — and a DIY set didn't immediately sound like a natural fit.
Then they stepped back and realized that going DIY didn't mean lowering their standards; in fact, it was something they had long excelled at. Before Beyoncé signed Chloe x Halle in 2015 as one of the first acts on her Parkwood Entertainment label, the sisters were a viral YouTube sensation known for their at-home, often a cappella performances. Pandemic-induced limitations didn't mean they had to sacrifice style; they could use their backyard tennis court as a stage and the light strobe from a recent music video to add production value. Singing their slinky single "Do It," they turned in one of the standout virtual performances of 2020. "We walked out and it felt like a full-blown concert," says Chloe, 22. "Then, the possibilities were endless — like Pandora's box opened."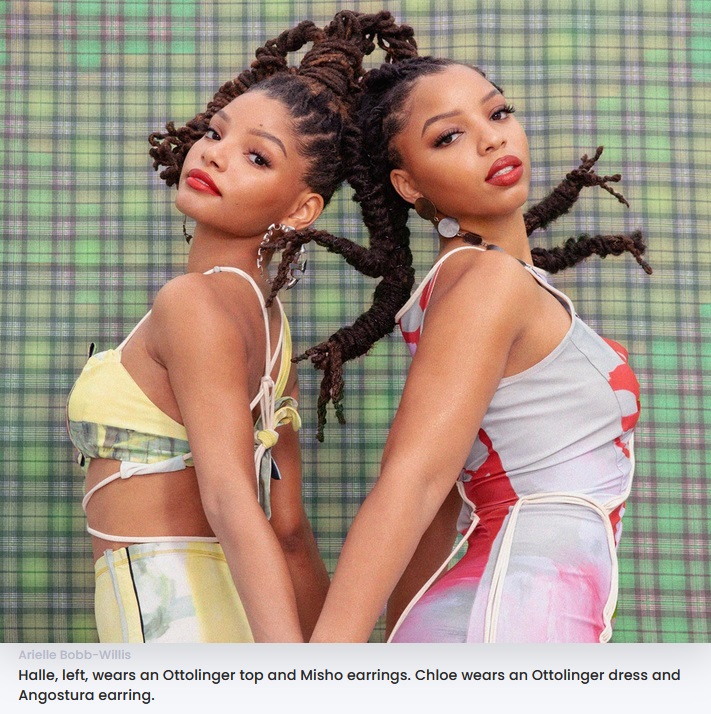 As Halle, 20, puts it, the creativity she and her sister discovered in the past year has been "a blessing in disguise." In June, Chloe x Halle released their second album, Ungodly Hour, an R&B set that nods to the genre's 1990s heyday but has an unmistakably modern sound courtesy of Chloe's production. It landed at No. 2 on Billboard's Top R&B Albums chart and just scored three Grammy nominations. The artists' YouTube appearance was just the first of several sleekly staged performances this year showcasing their growth from polished wunderkinds to confident young women ready to embrace stardom.
For their longtime A&R executive Teresa LaBarbera (who also discovered Destiny's Child), Chloe x Halle's ascent comes as no surprise. The Atlanta-born-and-raised sisters, she says, have always been motivated to level up, whether teaching themselves to play instruments, tapping into their production skills or adapting to the pandemic. That drive is "not something that I see a lot at that age," says LaBarbera. "These two young women were going to succeed whether [Beyoncé and I] helped them or not." In the studio, says Ungodly Hour engineer Tony Maserati, they are "sponges" whose "ability to sustain themselves is probably more possible than most of the artists that I work with — primarily because they write and produce their own material and collaborate really well."
Their connection is undeniably tangible in person. Kicking back in their Ivy Park sweats, this year's Billboard Women in Music Rising Star honorees project an easy comfort together, talking over each other to emphasize the other's statements or praise the other's talents. "We are completely different, and we can stand alone and still be just as strong," says Chloe. "But when we come together, it's this really beautiful melting pot."
In the wake of George Floyd's death, you pushed your album back a week. What went into that decision?
Halle: We are two young Black women. We know how heavy our steps are. We know what it is to fear for your life. We have a little brother who's 15, who's so tall, so handsome, so smart. When we see the things that happened to George Floyd, it scares us for his life. It scares us for our father's life.
That whole week was a roller coaster of emotions. We went on shutdown mode and thought, "Do we still release this music?" Music has been used since our ancestors as a healer, as a way to get through pain. We ultimately decided to back it up a week. The next week still felt very heavy, but at the same time we felt like our music could bring some peace and healing.
This industry can be hypercritical of young women. How have you managed evolving as artists — and people — in that environment?
Chloe: A lot of people think of us as little perfect angels that don't have any problems, and that's not true. We really wanted to show the imperfect side of us on this project. We have fallen in love, fallen out of love, had our hearts broken. We're still learning to love our insecurities. That's what this album symbolizes for us: "Will you love me at the ungodly hour?" We have to give a lot of that credit to our parents too. It's so funny, when we were playing the songs for them, our dad almost had a heart attack…
Halle: …because we expose ourselves in the music. A lot of the things we don't tell our parents, it's in the songs. When they hear them, they're like, "Oh, this is what's happening? OK."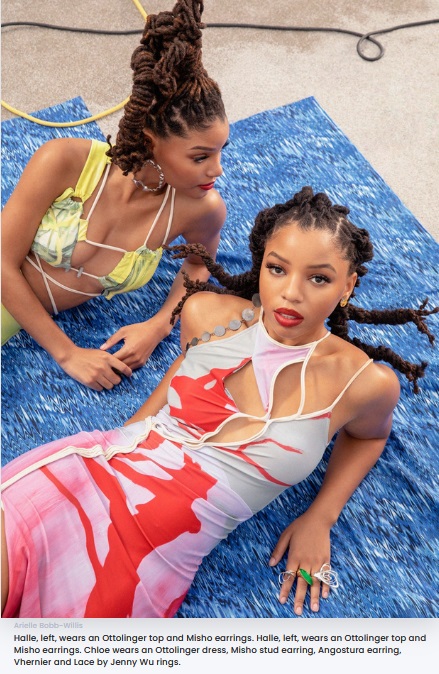 What kind of direction does Beyoncé give you?
Chloe: What's really cool is that she gives us complete freedom. She has been in this game since she was so young, and she knows what it feels like to be able to use her voice. She doesn't take that away from us, and she lets us create the art we want to create.
Halle: It's freeing when you have full creative control and you don't have to rely on anyone else. We truly feel that it is our story to tell. We don't want anybody else to tell our story.
Chloe: We'll just do whatever the hell we want and see if it sticks. Then we'll go back the next day and listen to it and be like, "We really like this!"
Halle: Or, "This is shit."
Both: "This is bad." (Both laugh.)
Chloe, you're an accomplished producer in your own right; and Halle, you'll soon be starring in Disney's live-action The Little Mermaid. Do you see a future in which you have solo projects?
Halle: There is a natural kind of evolution that happens as you grow. I am so happy always doing things with my sister, but I have a vision for her. She has always been — I'm saying this because she won't say it about herself — super smart. It's my favorite thing when we go into sessions with the biggest producers and when she plays them her tracks, it blows their minds. She could be the biggest star in the world. I know how far Chloe will go.
Chloe: And you.
Halle: That's a fun thing for us to imagine about one another — knowing that we will always be together as well.
This article originally appeared in the Dec. 5, 2020, issue of Billboard.