Taylor Swift has never shied away from a pop-culture reference — her cats are named Meredith Grey, Olivia Benson and Benjamin Button, after all — and in her new cover story for Entertainment Weekly, she's revealing even more of her viewing and listening habits.
The many buttons that dot her light-wash jean jacket on the magazine cover include some fellow musicians (Drake and Selena Gomez), her favorite TV shows (Law & Order and Grey's Anatomy, of course) and maybe even some new song-title hints (we're looking at you, "Calm" and "I Tried"). Are these hints about songs or collaborators on her upcoming #TS7 album? We'll have to wait and see.
There's also a pin from the Cats musical, a reference to Taylor being part of the cast of the Tom Hooper-directed movie adaptation of the beloved Broadway classic out in December.
Below, find the EW cover photo and a list of all the buttons featured on Swift's jacket, organized by music, TV and miscellaneous.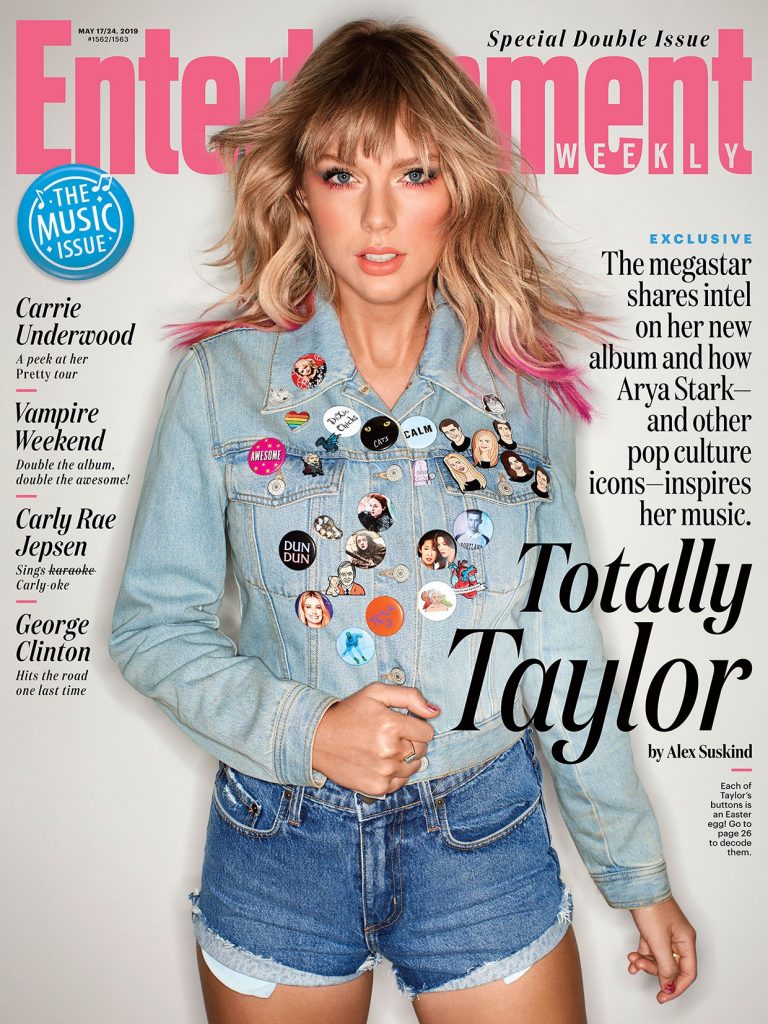 MUSIC
Dixie Chicks
Faith Hill
Cats
Selena Gomez
Drake
Troye Sivan
TV
Game of Thrones (Arya Stark, Sansa Stark, Daenerys Targaryen, dragon)
Mister Rogers
Friends (Ross, Rachel, Chandler, Monica, Joey & Phoebe)
Law and Order (Dun Dun)
Grey's Anatomy (Meredith Grey & Cristina Yang, "You're My Person")
MISCELLANEOUS
Taylor's OG cats (Olivia & Meredith)
"Calm"
"I Tried"
"Track 5"
"Awesome"
Rainbow Heart