Young pop stars Billie Eilish and Olivia Rodrigo shared a wholesome moment in celebration of Eilish's new album.
As Eilish's highly-anticipated Happier Than Ever arrives and Rodrigo's radio reign continues, photos shared on Instagram show the pair connected at Thursday night's (July 29) album release party.
"this is where the real love is," Eilish captured a series of snapshots from that night. In the sixth picture, the "Happier Than Ever" singer can be seen embracing Rodrigo in a close hug. (Rodrigo can also be seen attending the event in the photo below.)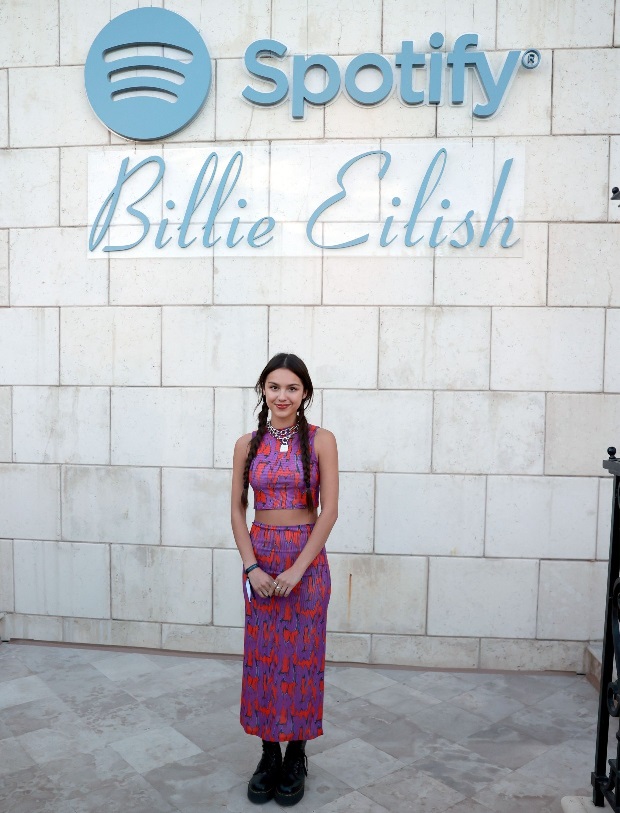 Matt Winkelmeyer/Getty Images for Spotify
Olivia Rodrigo attends the 'Happier Than Ever: The Destination' celebration, presented by Billie Eilish and Spotify, for Eilish's new album on July 29, 2021 in Los Angeles.
Khalid and Gracie Abrams were among the other artists and friends who were also photographed with Eilish, all showing support for her on release night.
All guests were required to take a rapid COVID-19 test at the Beverly Hilton Hotel before being given the party's address, Variety reported.
Before posting her photos with friends, Eilish uploaded images of herself posing in front of Happier Than Ever backdrops. Happier Than Ever, her sophomore album, dropped on July 30.
Check out Eilish's moment with Rodrigo in the Instagram photo set here, and see other pictures of Eilish from Friday night here and here.