Earlier this year, when Taylor Swift's Evermore sold 102,000 vinyl copies in a week, setting a modern-era record, and drove the six-month-old album back to No. 1 on the Billboard 200 chart, it had a secret weapon helping it along its way — digital sales.
On June 3, for one day only, Swift sold four digitally autographed versions with her signature scrawled across new album cover artwork from her direct-to-consumer webstore for $4.99 apiece. These copies — which also included a bonus dance remix of "Willow" — pushed the album's overall digital sales to 21,000 for the week ending June 3 across all reporting retailers in the U.S. (up from 400 sold in the previous week), according to MRC Data, helping drive Evermore from No. 74 the week prior to No. 1 on the chart dated June 12. (The set scored three prior weeks at No. 1 in December 2020 into January.)
To be clear, Evermore had more than vinyl LPs and digital downloads aiding its sales that week. Evermore's CD sales were bolstered by the availability of CDs signed by Swift in her webstore (that went up for pre-order earlier in May) and at independent retailers. In the week ending June 3, Evermore sold 69,000 CD albums (up from 1,800 the previous week). But since then, the strategy of releasing digitally autographed album covers has picked up some steam among artists looking for a quick and relatively easy sales bump.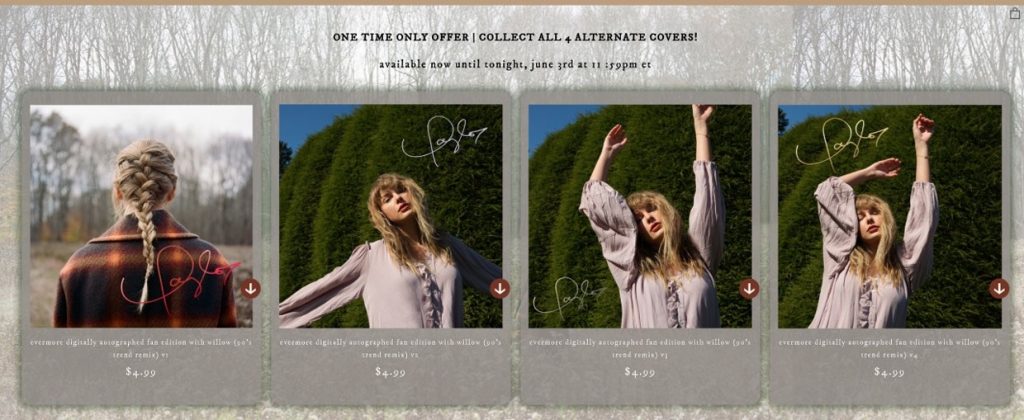 These digitally signed albums are an old-school album download whose cover contains a limited-edition, signature on it. In a way, they're kind of like non-fungible tokens (NFT), which captured the music industry's attention in February with multi-million-dollar sales, but without the ability to resell them.
Instead, they just exist on a fan's computer, presumably next to the original version of the album without a signature on it.
The concept isn't new. In 2012, when digital sales were still driving recorded music revenue, Ellie Goulding boasted of the "world's first digital album signing" with her sophomore album Halcyon. More recently, Arnold Schwarzenegger used the technology in a similar way last September when a fan sent him a pipe and the Terminator actor "signed" a photo of himself using it online.
"Now that it's 2020 I just sign things on my machine and send in email if that works for you," wrote the former California governor.
Swift didn't make such a big deal about it. She did not comment on the digitally signed versions and her label, Republic Records, did not market them as such. (Republic and Swift's rep declined to comment for this story.) Still, it turned out to be enough to send the album back to No. 1 and edged out Olivia Rodrigo's Sour from a second week at the top by 16,000 units.
Evermore's digital album sales — all of which were discounted to $4.99 across all digital retail — accounted for more than 10% of the week's 202,000 equivalent album units earned (192,000 were in total album sales). Sour, meanwhile, earned 186,000 units, with 86% of that sum driven by streams.
Swift's moves may have encouraged others to tinker with digitally signed albums as means to juice their sales. Although, as digital album sales continue to decline (down 29% so far this year, through the week ending Sept. 16), not everyone's likely to have the same kind of results.
In late June, when Migos dropped their long-awaited Culture III on Motown Records, the trio also released a digitally signed version of the album via its webstore. Ultimately, the album sold 23,000 downloads across all digital retail (it was only available to purchase as a digital album) and landed at No. 2 on the Billboard 200 chart behind Polo G's Hall of Fame.
On Aug. 18, nearly two months after Doja Cat's Planet Her had debuted and peaked at No. 2 on the Billboard 200, her label, RCA Records, also released four digitally signed download albums through her webstore, each priced at $4.99. It helped boost her digital album sales 540% from 500 units the week prior to 2,700 — but it wasn't enough to get her a No. 1. (The album jumped 5-2 on the Billboard 200 that week.)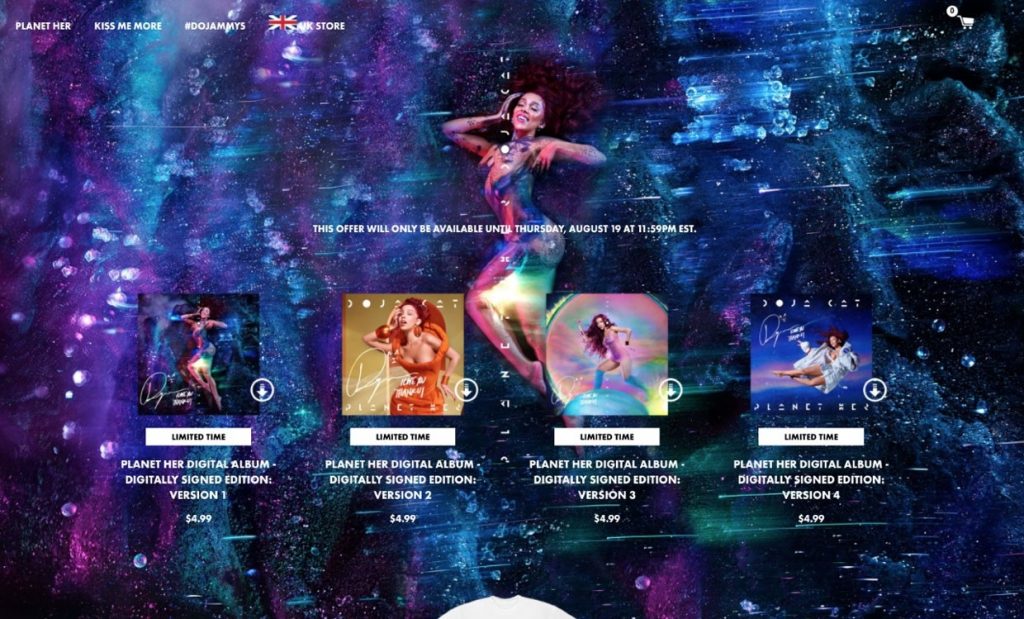 TOMORROW X TOGETHER saw a similarly lackluster response in August when the group's label BigHit Music released three digitally signed versions of The Chaos Chapter: Freeze through its webstore, each with a different bonus track, resulting in 900 digital album sales in the week ending Aug. 25.
Reps for Motown, RCA and BigHit did not respond to requests for comment.
With each of these releases, fans have voiced confusion around the releases on social media. "I really like culture III but this is sad," a Reddit poster said of the megastar hip-hop trio's digitally signed album, although another expressed respect for "the hustle."
"Doja baby what does the autograph matter if it's online?" asked one Doja Cat fan.
Next month, Swift is preparing for a big week of sales for Fearless (Taylor's Version) following its vinyl LP release on Oct. 1. No word yet on whether that will include digitally autographed fan editions, but vinyl sales should make a significant impact. She's also selling CDs that she actually, physically signed herself. Swift seems like she has moved on from digitally signed albums — to old-school, physically signed CDs.
She has been so busy with autographs, she recently told fans on Twitter, her "hand is now frozen in the permanent shape of a claw."