Yuri Hasegawa – Billie Eilish photographed on Sept. 24, 2018 at Button Mash in Los Angeles.
When Billie Eilish hit her preteens, "My 11-year-old brain was so sad and I didn't know how to deal with it," she says. Taking cues from her musician older brother and songwriting mother, the Los Angeles native turned to music to vent her youthful frustrations, and by 13, she'd released her explosive debut single "Ocean Eyes," a coming-of-age realization of the power someone can hold on you. As she lives out those adolescent epiphanies in real-time, the reaction has been substantial: Last year's don't smile at me EP peaked at No. 3 on Alternative Albums, and "lovely," her meditative duet with Khalid, hit No. 78 on the Hot 100. Next, she's trying to capture the energy of her live shows — she headlined a sold-out U.S. tour of clubs last October — on her debut full-length, out in 2019.
You started writing music when you were 11 and have a musical family. Was that part of the impetus for it?
I guess. A big part of it was that my older brother [Finneas] was four years older than me, he had been writing music for a couple years at that point. I always looked up to him and he always wrote songs and that was always really cool to me, because I was like, I really want to write songs. But I never did because I was like fuck it, I don't want to. I don't know if I can. And then I had a lot of shit on my mind, like damn. I didn't know how to say it so I just wrote it down, saying it, and somehow that was perfect.
Did you find that at first, people were not taking you seriously in expressing yourself that way?
Oh, nobody took me seriously. The kids I knew thought I was a joke. I remember this boy that I liked when I was 13. He was in this stupid band with a couple of his friends and they all made a bet, like, "We're going to be bigger than Billie. Watch us get bigger than her. She's going to flop." They would always just make fun of everything I did and shit. I showed them, huh? [Laughs.] Yeah, fuck it.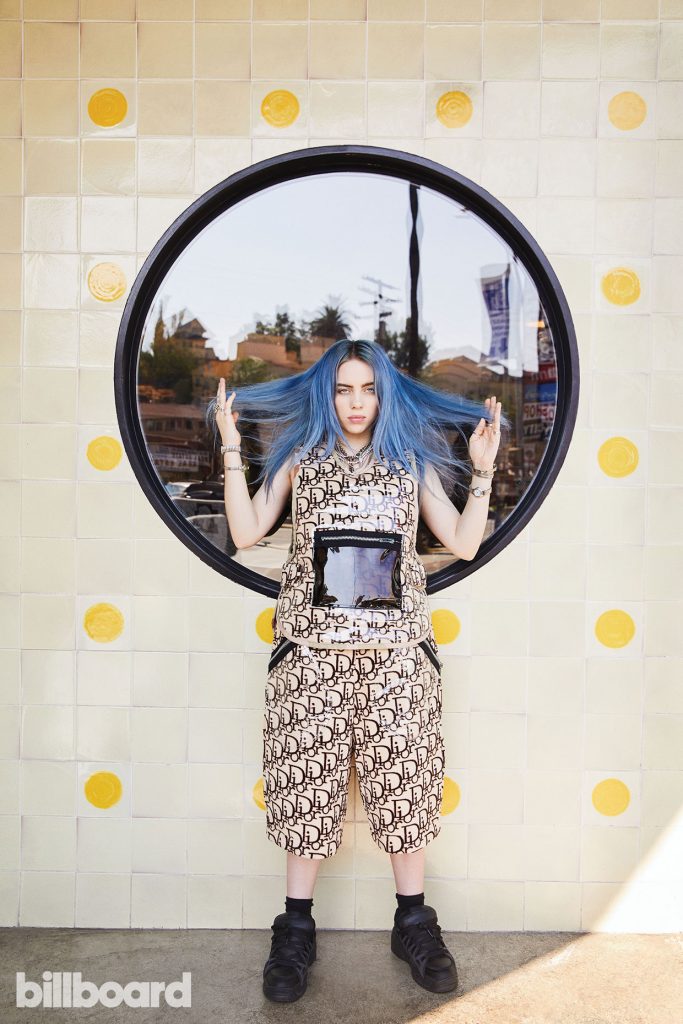 Yuri Hasegawa – Billie Eilish photographed on Sept. 24, 2018 at Button Mash in Los Angeles.
You put out "Ocean Eyes" at 13. Were you surprised by the reaction to your music at first, not just people at large, but people your age really identifying with the music you were creating?
It's kind of crazy, because I'm the same age as most of the supporters in my life. I don't like calling them fans, but I guess that's the way to describe it. We're growing up together. My shows are like being at a party with my friends. It's kind of rare to have the people who fuck with you growing up at the same exact time as you, and feel the same things or similar, whatever.
You've said that there's a huge difference from being 13, now that you're three years older. What differences do you find not just musically, but in the business itself?
It's really everything. It's mainly just my mental, my brain and the way that I think and do things. I think about how I was when I was 15, which was even a year ago, and if I just think about the way that I saw the world, it'd be completely different from the way that I see the world now. I'm sure it'll be the same in a year from then and a year from then. I remember right before my birthday last year, I didn't want to turn 16 because the world has made age such a big deal, and I felt a year ago, when I was 15, once I turned 16, people wouldn't like me anymore because I wasn't really young for having this voice or whatever the fuck people think I have. But 16 is still a fucking child. I didn't even think about it, because that was the oldest I'd ever been. But I would say everything — everything — has changed, in good ways and bad ways.
What are some things that you find yourself encountering in the music industry now?
I think in the industry, it's almost normal. People treat me more normal than people my age who are not in the industry. The main reason is, I think people my age that aren't in the industry are going to school and figure out to try to get a job. I can't really relate to anyone my age, and I don't really have friends my age, because I don't really have time for a personal life. I'm always around adults, which is the normal, but it's kind of fucked. It's not like I'm hanging around a bunch of 15, 16 year olds.
I was watching Justin Bieber's "Believe" yesterday, and crying because I remember all the ways I used to feel about him and he didn't know I existed. I realized that people view me in a similar way that I viewed him, I think. I don't even know if that's true. It was just insane. I never in a million years never would have thought anything that Justin's life then would even be a little bit of what my life is like now. And I'm not comparing myself to Justin Bieber, he's a whole different thing, but I just want to be everything I possibly can to my supporters because I think that's what they deserve.
It's very difficult to grow up, period, but on top of that, to also be visible while curating how you're perceived by the world. How does that factor into these high-concept visuals you're presenting?
You bring up a good point, which is that when you're growing up, you don't know what the fuck you're going to like. You like what you like when you're growing up and it changes all the time, and you get to a certain age when you're older that maybe it stays a little bit longer than it would in your teenage years. So to have a spotlight on you during those years is insane because people expect you to start with what you're going to end with, and that's not how it works, ever, no matter what age you are, but especially when you start at fucking 13.
I've always been a person who always has a vision for what I want. I think back to when I was nine. I was like, I'm going to wear this. I don't give a fuck what anybody thinks. That was my state of mind. When I think back to what I used to wear when I was 10, I think back to how disgusting I used to look. But, even though everything I did then was very "yikes," I still think back to who I was then and it was true to who I was. I just feel like you should always do exactly what you want, you as in you right now. I don't care if my nine-year-old or five-year-old self would look at me now and be disappointed. I just hope that where I go and how old I get or whatever, I hope I stay with this state of mind of looking back at myself and being proud of the fact that I stuck with what I wanted.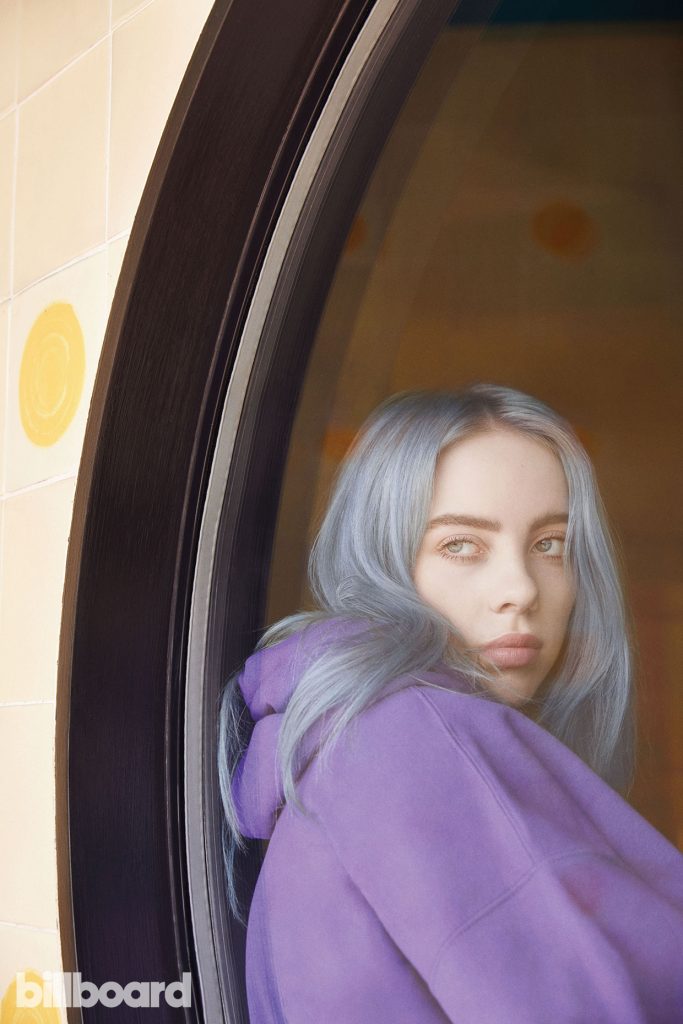 Yuri Hasegawa – Billie Eilish photographed on Sept. 24, 2018 at Button Mash in Los Angeles.
Your brother plays a huge part in your career and you keep him really close. Why is it important for you to keep that nucleus of family involved in everything you do?
I'm really lucky to have had a family that was just supportive growing up. Nobody made me write songs or made me learn how to play the piano or ukulele. I think if they had, I wouldn't have wanted to do it. I think that's the problem with like, school. I've never been to school so I can't say school's horrible, but if something's shoved down your throat, you're not going to want to fucking eat it. Who knows if you would want to eat it? I was just lucky to have a family that just let me try to want to learn. And, my brother's my best friend, and when we make music together and when he produces my stuff and when we write together, it's just more raw than it is with anyone else and it's realer. We like it more. It always works better. Why change that?
That leads me to the new album. What sort of direction do you see yourself heading?
I think the main thing that me and my brother have learned is, what is fun to perform? When the crowd has fun when whatever is playing? I love jumping around and going crazy, I love moshing. Just going insane on stage. I want the crowd to go insane. So we just wanted to make the music that's so fun to be in the moment at a show to. But it's also like, it's that kind of shit that's crazy and also depressing fucking my brain shit. I just hate genres so I wanted to do everything in this album.